It is time for the chairs to turn once again! Season 2022 of The Voice is on the horizon with a release date of 19th September 2022 and fans are eagerly waiting to see the new group of contestants and the epic battle between the judges! Now watch The Voice 2022 in UK on NBC!
We're hot to trot to relish the new lineup of artists ready to give the performances of their lives! Allow us to make break down everything about the show for you; From the Blind Auditions, to selection, and straight to the live performances!
Quick steps: How to watch he Voice on NBC using a VPN
To watch movies/TV Shows & Live Sports from a platform that is geo-restricted in the UK, we recommend ExpressVPN OR NordVPN

Download the VPN and connect to a US server.

Log in to your streaming platform.

Find The Voice and stream it no matter where you are.
By the way, there's a nifty comparison of our recommended VPNs at the end of this article.
The Voice 2022 auditions schedule and more!
The voice 2022 would air on Mondays (3:00 UK TIME) and on Tuesdays (1:00 UK TIME), the show would be available for you to watch on NBC. In case you miss the show, you can stream it through the app or on Peacock Tv after subscribing.
This season would last for 13 weeks with one extra blind audition episode, and two more battle round episodes but only three knockout episodes. Here is the layout:
Blind Auditions
Monday, Sept. 19 – Premiere
Tuesday, Sept. 20
Monday, Sept. 26
Tuesday, Sept. 27
Monday, Oct. 3
Tuesday, Oct. 4
Monday, Oct. 10
Battle Rounds
Tuesday, Oct. 11
Monday, Oct 17
Tuesday, Oct. 18
Monday, Oct. 24
Tuesday, Oct. 25
Monday, Oct. 31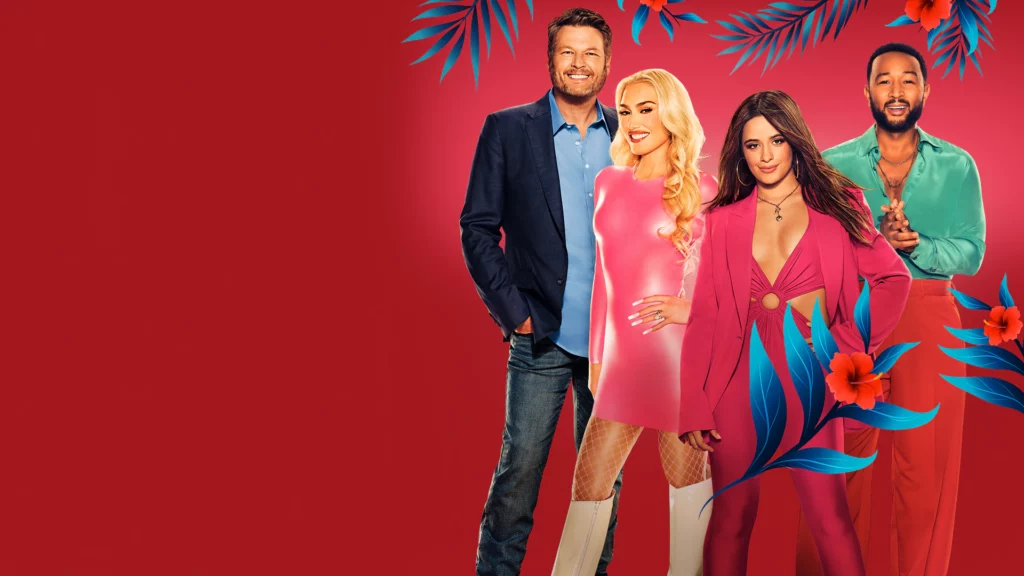 Knockouts
Tuesday, Nov. 1
Monday, Nov. 7
Tuesday, Nov. 8
Live Shows
Monday Nov 14
Tuesday Nov 15
Monday Nov 21
Tuesday Nov 22
Monday Nov 28
Tuesday Nov 29
Monday Dec 5
Tuesday Dec 6
Monday Dec 12
Where to watch The Voice 2022 in UK
You can watch The Voice 2022 in UK on NBC which has given us plenty of shows like America's Got Talent, Days Of Our Lives, and more! However, NBC is not available in UK, unless streamed through a VPN!
Finale: Tuesday, Dec. 13
The Voice 2022 Official Trailer
What to Expect From The Voice?
The Voice season 2022 will start off with Blind Auditions, where the contestants are asked to sing and the judges turn their chairs if they wish for that contestant to be on their team. In the case of multiple chairs, the contestant has a choice to choose which team he wishes to go to.
Once that is settled, the show moves along to Battle Rounds among two contestants, Knockouts (Which include separate performances by contestants of two different teams), and Live Performance Shows. Throughout the show and performances, the judges have Blocks, Steals, and Saves.
The Voice 2022 judges
Blake Shelton and John Legend would be returning as coaches for The Voice 2022 along with Gwen Stefani, who was the judge in season 19. This season would bring out the new judge, Camila Cabello who has replaced Kelly Clarkson.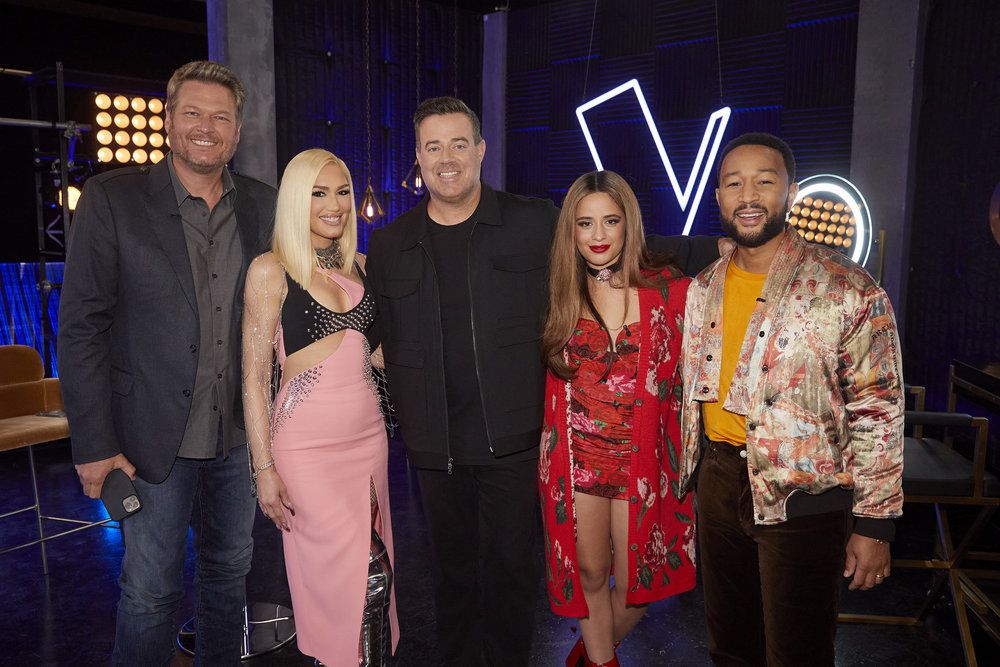 Cabello has a history of being on The Voice when she mentored a legend's team, but now she is going to be a judge. The Battle Advisors who are confirmed so far are Jazmine Sullivan for Team Legend, Charlie Puth for Team Cabello, and Sean Paul for Team Blake and Team Gwen!
Who qualified for The Voice 2022 contestants?
After a phenomenal round of blind auditions, here is a list of contestants who qualified for season 22:
Tanner Fussell
Ian Harrison
Rowan Grace
Parijita Bastola
Orlando Mendez
Kique Gomez
Chello
La Reina Ley
Kara McKee
Hillary Ward
Daysia Reneau
Valarie Collins-Harding
Solsong
Morgan Taylor
Dia Malai
Destiny Lilia
David Andrew
Omar Cardona
Morgan Myles
Justin Aaron
Emma Brooke
Constance Howard
Tanner Howe
Sydney Paige
Kate Kalvach
Julia Aslansli
Jaeden Luke
Brayden Lape
Bodie
The Marilynds
The Dryes
Devix
Cara Brindisi
Benny Weag
Bryce Leatherwood
Austin Montgomery
Sasha Hurtado
Madison Hughes
Kayla Von Der Heide
Ava Lynn
Andrew Igbokidi
Grace Bello
Alyssa Witrado
Peyton Aldridge
Nia Skyfer
Kim Cruse
Jillian Jordyn
Ansley Burns
Zach Newbould
Eva Ullmann
Eric Who
Steven McMorran
Sadie Bass
Lana Love
Jay Allen
What's new in The Voice 2022?
We've been hearing a lot of news about a format change for this season. Similar to every year, The Voice brings ultimate twists and turns for the audience and the participants. There are 55 participants for this season which marks the greatest number to be on the show.
This time, In the knockouts the coaches will be allowed to pick 3 artists for a knockout instead of 2, eliminating two in the end. Every coach will have the opportunity to steal a contestant.
The Voice crowned new winner for Season 22
Spoiler Alert!
Bryce Leatherwood from Team Blake has been named the new winner of The Voice for Season 22. This is his ninth triumph.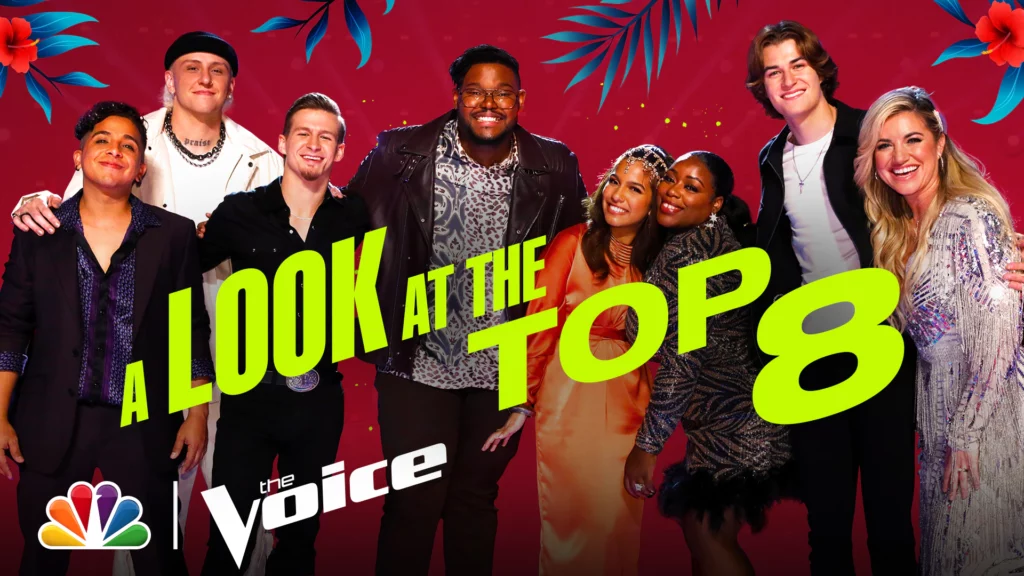 Bodie, Omar José Cardona, Morgan Myles, Bryce Leatherwood, and Brayden Lape were the five vocalists who advanced to the final, however only one was named the champion. Lape finished in fifth position, Cardona in fourth, with Myles and Bodie coming in second and third.
How are the fans reacting to The Voice 2022
Read More: The Voice crowned new winner for Season 22
If you like The Voice
Best VPNs To Watch The Voice 2022 From UK on NBC
More shows on NBC
FAQs
Who will be on The Voice 2022?
Blake Shelton, John Legend, Gwen Stefani, and Camila Cabello.
Why isn't kelly Clarkson on The Voice?
Kelly wishes to take a break.
What date does The Voice start?
19th September 2022.
Was The Voice Canceled?
No, it has not been canceled.
Who is the most successful winner of The Voice?
Cassadee Pope