Are you an avid fan of British television and entertainment? If so, ITV might be your next favorite streaming service. With over 10,000 hours of on-demand content, including popular shows, movies, and live channels, it offers a diverse range of entertainment options. But before committing to a subscription, did you know that you can get a free trial of ITVX? In this guide, we'll walk you through the process of how to get an ITVX free trial in UK, whether you want to enjoy ITVX Premium with no ads or simply catch up on your favorite shows without paying a penny.
What is ITVX and What Does it Offer?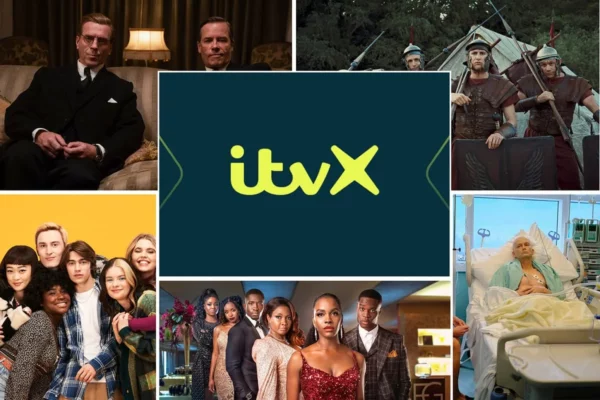 Before diving into the free trial details, let's briefly explore what ITVX is and what it has to offer. ITVX, formerly known as ITV Hub+, is a streaming service that allows you to access a vast library of content. You can enjoy not only ITV's programming but also various themed channels. With ITVX Premium, you get the added benefit of ad-free viewing, the ability to download shows for offline watching, exclusive content, and access to BritBox content.
Also Read: How to Watch ITV Hub Outside UK in [2023]
The ITVX Free Trial Options
ITVX offers two different avenues for securing a free trial: through Amazon Prime and directly from ITVX.
7-Day ITV Catch-Up Free Trial With Amazon Prime
If you're an Amazon Prime member, you're in luck. You can get a 7-day free ITV Catch-Up trial through Amazon Prime Video. Here's how it works:
Go to the Amazon Prime Video website or app.
Sign in to your Amazon Prime account or sign up for a 30-day free trial if you're not already a member.
Look for the ITV Catch-Up trial option, and start your free trial.
You can watch ITV content on any Prime Video-eligible device.
Remember to turn off Auto-Renew in your settings if you wish to cancel before being charged.
This is an excellent option for those who already have an Amazon Prime subscription, and it allows you to enjoy ITVX content without additional costs for seven days.
You may also like: How to Watch Amazon Prime in UK in [2023 Updated]
7-Day ITVX Premium Free Trial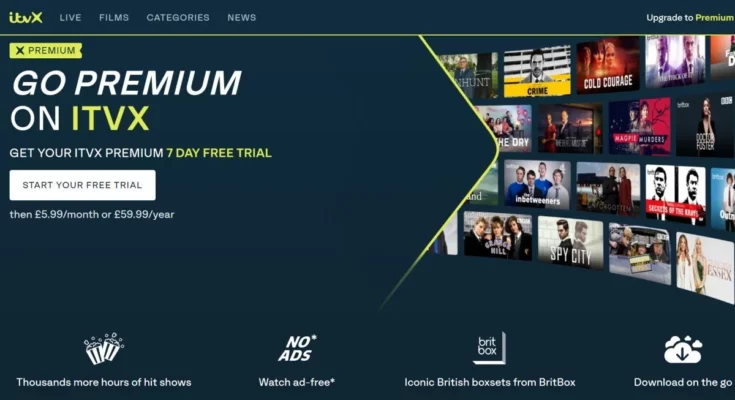 Alternatively, you can get a 7-day ITVX Premium trial directly from the ITVX platform. Here's how you can do it:
Visit the ITVX website.
Register for a new ITV account if you don't already have one.
Start your 7-day free trial of ITVX Premium.
After the trial, you can choose to continue with a paid subscription or cancel before the trial ends to avoid any charges.
This option is for those who want to experience the full ITVX Premium package, including ad-free viewing and access to BritBox content, for a week at no cost.
Saving with an Annual ITVX Premium Subscription
For those who plan to stick around and enjoy ITVX for the long term, there's a way to save money. When you sign up for ITVX Premium, you'll be given the option to select an annual subscription for £59.99/year.
By opting for the annual plan, you'll save 17% compared to the monthly subscription cost of £5.99. It's a smart choice for budget-conscious viewers who want to enjoy all the benefits of ITVX Premium without breaking the bank.
Related: 10 Best Movies on ITV to Watch of All Time
FAQs
How long is the ITVX free trial?
ITVX offers a 7-day free trial for both its Catch Up and Premium services. During this period, you can access the platform's content and features without any charges.
What is the difference between ITVX Catch Up and ITVX Premium during the free trial?
With the ITV Catch Up free trial, you can access a variety of ITV content for free, including recent episodes of popular shows. The ITVX Premium free trial, on the other hand, provides you with a more comprehensive experience, including ad-free viewing, the ability to download shows, and access to BritBox content.
Do I need to provide payment information for the free trial?
Yes, you will be required to provide payment information when signing up for the ITVX free trial. This is to ensure a smooth transition to a paid subscription if you choose to continue after the trial period.
Can I cancel my ITVX free trial before it ends?
Yes, you can cancel your ITVX free trial at any time before it ends. If you cancel during the trial period, you will not be charged, and your access will continue until the trial expires.
Can I sign up for multiple ITVX free trials with different email addresses?
ITVX typically restricts free trials to one per user or household. Attempting to sign up for multiple free trials using different email addresses may not be allowed and could result in account suspension.
Final Words!
In conclusion, getting an ITVX free trial is a fantastic way to explore the world of British television and entertainment without committing to a subscription. Whether you choose the Amazon Prime trial or the direct ITVX Premium trial, you'll have the opportunity to enjoy a wide range of content, from popular shows to exclusive releases. And if you decide to continue your ITVX journey, don't forget to consider the annual subscription for extra savings. So, why wait? Start your ITVX free trial in UK today and experience the best of British television. Happy streaming!