There's an increasing debate about which OTT platform is streaming the best TV Shows and movies. Netflix was launched in 2007 but Disney+ is a newly launched site.
Disney+ offers content like Disney, Pixar, marvel, national geographic, and stars which is likable to both children and adults while Netflix provides original content and fresh content that is mostly liked by adults only.
The best Netflix shows are Alone, Lupin, and Money Heist, while the leading Disney Plus shows are Andor and Moon Knight.
With the help of our guide, you will be able to learn all the information about disney+ and Netflix and the comparison between both platforms helps you to choose the best movies and Tv shows for your weekend.
Don't forget to watch Disney Plus, French Netflix, or American Netflix. To stream Disney+ and Netflix while travelling, you'll be needing a good quality VPN.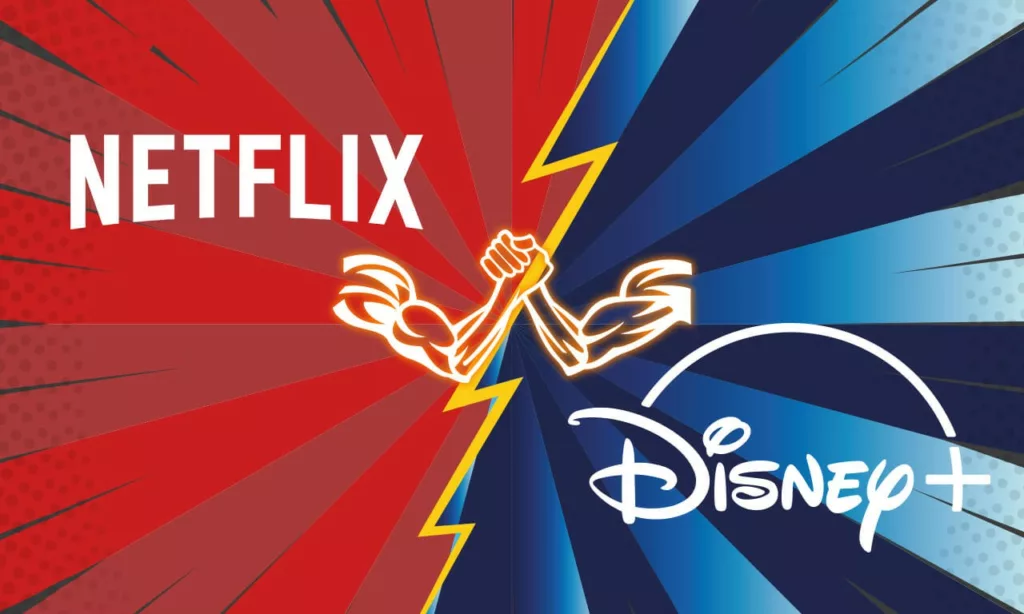 Disney+ vs Netflix: Pricing and Packing in UK
When picking a platform to subscribe, the pricing and packages that are offered by platforms play a key role. Here we will guide you through all the latest prices and packages that are being offered by Disney+ and Netflix so you can choose what is most suitable for you.
| | | |
| --- | --- | --- |
| Features | Netflix | Disney+ |
| Refund Policy | No Refund Available | No Refund Available |
| Free Trial | Unavailable | Unavailable |
| Monthly Subscription | GBP 8.45 | GBP 6.76 |
| Yearly Subscription | Unavailable | Available |
| Multiple Plans | Available | Available |
| Simultaneous Streams | 1 | Up to 4 |
| 4K Streaming | Available | Available |
| Advertisement-Supported | Unavailable | Unavailable |
| Live-Streaming | Available | Unavailable |
| Original-Content | Available | Available |
When price is concerned, Disney+ is reasonable as compared to Netflix as mentioned above. Both streaming platforms are providing key features and different packages that are convenient for you.
The different Netflix packages limit you on simultaneous connections, streaming quality, and downloads, whereas dDsney+ packages allow you to subscribe to more platforms like Live TV, Hulu+, and ESPN+.
Note: There are numerous plans and packages offered by both Disney + and Netflix. Depending on the package you choose, the subscription cost varies. The basic package offered by each streaming service is the one with the monthly cost listed above in the table.
Disney+ vs Netflix: Experience Comparison in UK
User Experience
A good user experience comes when the platform is filled with updated content and user can easily access the website due to the user-friendliness.
Both Disney+ and Netflix have easy-to-use apps/websites and categorized all the movies, TV shows, and seasons for their user convenience. They are also offering various compatible devices which allow the user to view the search history.
You may find content on Netflix that is categorized into different genres, such as action, comedy, and thrillers, as well as categories that indicate if it is a TV series or a movie.
The offered content on Disney+ is categorized into genres and the following categories: Star Wars, Disney, Pixar, National Geographic, and Marvel.
Personalization
Personalization is a key factor in the Netflix vs. Disney Plus 2022 debate. Many parents insist that any streaming medium their kids use must be secure. Both services provide parental controls to help these parents.
In order to ensure that their children are watching and streaming content safely on either streaming service, parents can activate the Kids Mode on Disney + and the Netflix Kids Experience on Netflix.
When you sign up for Netflix and receive your account, you can only create a maximum of five personalized profiles, however you can create a maximum of seven on Disney+. You can have up to four simultaneous connections on Netflix, and four on Disney+, depending on the bundle you purchase.
The ability to alter the audio language on Disney Plus is one of the nicest personalization elements, in our opinion. You can actually change your area on Netflix by using a VPN.
Features
Besides parental control, Disney+ and Netflix have various features, bundles, and packages. Both services can facilitate you by providing the 4 simultaneous connections.
Disney+ and Netflix are providing the content free of advertisement because they are offering the original movies and shows and you can also stream them in 4k streaming. The download option is also available on both platforms so you can enjoy your favorite movies and shows while traveling or outside the home.
You may watch your favorite material on one to four devices at once, in HD or Ultra HD, and download shows to one to four devices with various Netflix subscriptions. You may get extra content on Disney+ through ESPN, Hulu, and Hulu+.
You can easily discontinue your Disney Plus subscription if you ever change your mind. You can also deactivate your Netflix subscription at any moment.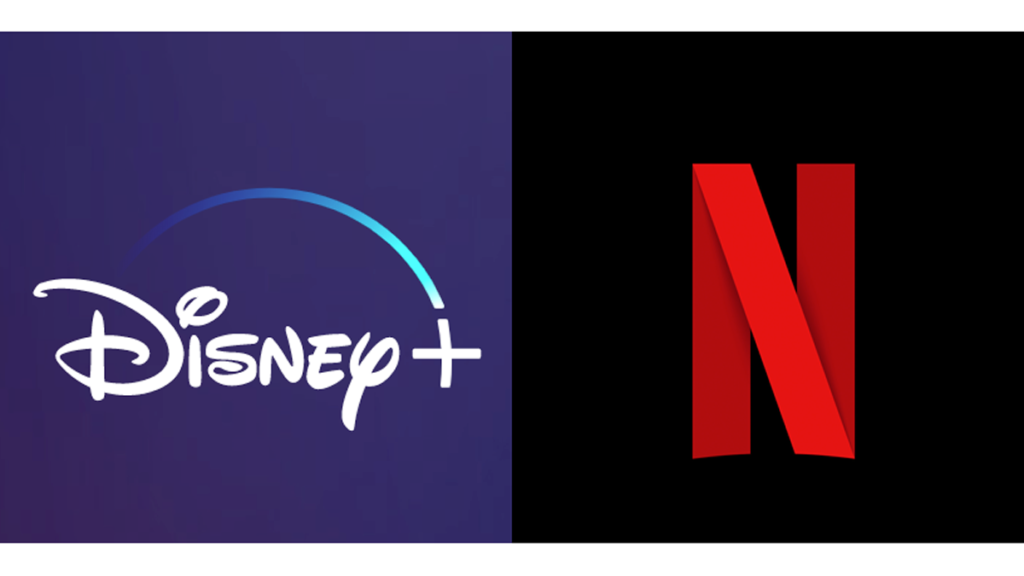 Disney+ or Netflix: Which has superior content in UK?
The content list of Netflix is huge as compared to disney+. They are offering 1800 TV shows and 4000+ movies to its users. Disney+ is offering 700 movies and 190 TV shows.
Popular movies on Disney+ in UK
We have the best options for 2022 that you can stream. Following is the list:
How to train your dragon
Coco
Ratatouille
Shirk
Captain America: The winter Soldier
Popular Shows on Disney+ in UK
Following is the list of best TV shows to stream on Disney+:
The Biggest Little Farm: The Return
The Proud Family: Louder and Prouder
Dug Days
Glee
Hawkeye
Popular Movies on Netflix in UK
Below are the popular movies on Netflix of 2022:
    Blacklist Season 10
    The Last Forest
Raw
Not Another Teen Movie
The Lost Daughter
American Gangster
The Sparks Brothers
Tangerine
Apocalypse Now Redux
RRR
Luckiest Girl Alive
Megamind
Popular Shows on Netflix in UK
Here is the list of most loved shows on Netflix that are worth binge watching.
Little Women
Business Proposal
The Midnight Club
Chef's Table: Pizza
The Baby-Sitters Club
From Scratch
Trainwreck: Woodstock '99
Which streaming service should you choose in UK?
The debate is still a hot topic about which streaming website is best. The prices and bundle packages for Disney+ are cheaper at GBP 1.69. Furthermore, Disney+ content is children friendly and family-oriented. Disney+ expands its audience by introducing marvel movies for adults. Disney+ is also offering additional options like Hulu, Hulu+, and ESPN content.
Netflix is focusing on diversity like children's content, adult content, dark content, comedy, and adult romance can be found with better quality and easy navigation.
Final Word
You already know everything you need to know about Disney+ vs. Netflix. Since Disney +'s launch, Netflix and Disney+ have been facing off against one another. We contrasted the two services' costs, features, user interfaces, personalisation, and content.
It all comes down to the viewer's preferred price and the content they want to watch in the end. You can choose between the Disney+ and Netflix options using the information above.
The best VPN for Netflix and Disney Plus is ExpressVPN, which we recommend if you're going abroad and unsure which VPN to use. With its assistance, you may access these streaming services on any device, including Apple TV and Netflix, and you can also enjoy the benefits of Disney Plus.