Netflix is back again to treat you with some of the best teen movies on Netflix that will blow your mind with their powerpack fun, drama, and romance. So are you ready to take a fun-filled ride with the best teen romance movies on Netflix? The streaming platform has classic and new range of original content for teen movies. If you want to watch teen romance, high school drama, and heartbreaks, then you are in the right place.
To entertain all the teenagers out there, we have gathered the best teen romance movies on Netflix. So are you ready to be entertained, and inspired by these engaging adolescent stories? These films will transport you to a world where emotions run high, friendships are made, and life lessons are learned, whether you are an adolescent navigating the intricacies of adolescence or simply searching for a nostalgic stroll down memory lane. Prepare to enjoy these unique movie experiences with your friends, you can also enjoy these on Netflix Free trail.
Top Teen Shows of Netflix: How Were These Titles Selected?
We have meticulously curated this list of top Teen shows on Netflix to guarantee your viewing pleasure. Our selection criteria rely on IMDb Ratings, and we've thoughtfully organized them for your convenience. These movies have garnered admiration from both audiences and experts alike, assuring you a worthwhile and enjoyable cinematic experience.
1. The Kissing Booth – Trilogy (2018 – 2021)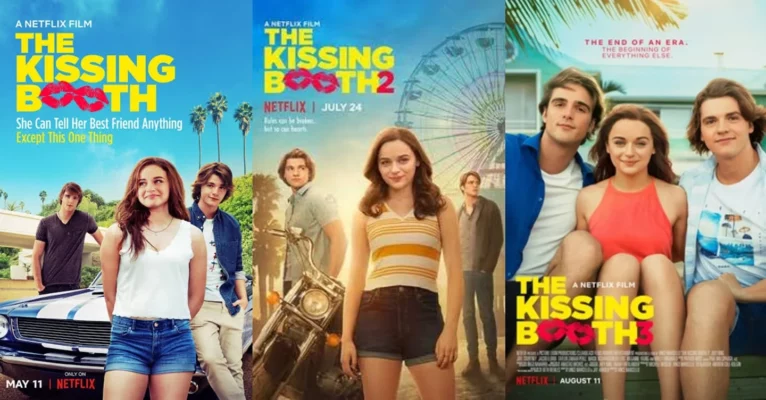 | | |
| --- | --- |
| Director | Vince Marcello |
| Cast | Joey King, Jacob Elordi, Joel Courtney |
| IMDb | 5.9/10 |
| Genres | Comedy/ Romance |
Netflix's three part rom-com is an adaption from The Kissing Booth novel with the storyline of a girl named Elle Evans who is preparing to get college admission. Before college starts she decided to do her bucket list with her boyfriend Noah and friend Lee.
The story revolves around a cute girl named Elle Evans, played by Joey King. A late bloomer who's never been kissed decides to run a kissing booth at her high school's Spring Carnival, and she unexpectedly finds herself locking lips with her secret crush, the ultimate bad boy, Noah Flynn, played by Jacob Elordi.
Noah is here to add some more twists to the movie; he just happens to be the brother of her best friend, Lee, played by Joel Courtney, and is absolutely off limits according to the rules of their friendship pact. Elle's world has suddenly changed when she realizes that she must ultimately make a choice. Is she follow the rules or following her heart? To watch this fun-filled teen romance tune in to the best teen romance movies on Netflix.

2. Clueless (1995)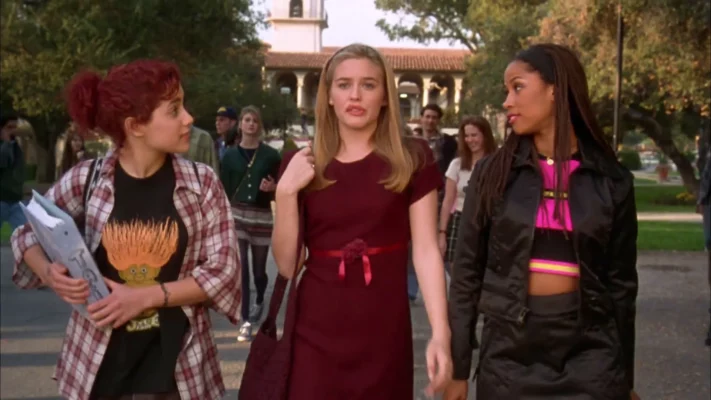 Clueless is an iconic mid-90s rom-com that centers on a gorgeous, famous, and rich high school girl named Cher, played by Alicia Silverstone, who makes a new friend at the school and decides to give her a makeover while playing a matchmaker for her teachers and examining her own existence. Clueless is one of teens favorite Netflix movies and was filmed in California over a 40-day schedule.
But who knows how beautiful high school girl Cher is going to survive all the ups and downs of her adolescent life? In the beginning, Her external demeanor seems superficial, but rather it hides her stunning personality and sense of humor, which help her deal with relationships, friends, family, school, and her social life as well.
3. Sense and Sensibility (1995)
| | |
| --- | --- |
| Director | Ang Lee |
| Cast | Emma Thompson, Kate Winslet, James Fleet |
| IMDb | 7.7/10 |
| Genres | Drama/ Romance |
| Where To watch | FuboTV |
Sense and Sensibility, based on Jane Austen's novel, is a mid-90s romance movie that will also give you some vivid vibes with interesting drama. The story revolves around the sisters Elinor and Marianne, who serve as the personifications of good sense, sensibility, respectively.
The popular teen drama movie narrates the tale of the struggling Dashwood family. After their father passes away and leaves Norland Park to their half brother, John, they become destitute. John is told to look after his sisters, but his avaricious wife, Fanny, discourages him from doing so. The family, which consists of their mother and a younger sister in addition to Elinor and Marianne, relocates to Barton Cottage in Devonshire.
There, Colonel Brandon meets the outgoing and exuberant Marianne. She rejects his advances despite his attempts to get her attention, instead developing feelings for the dashing John Willoughby.
4. Rim of the World (2019)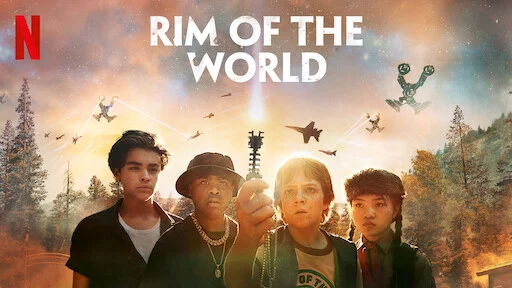 | | |
| --- | --- |
| Director | McG |
| Cast | Jack Gore, Miya Cech, Benjamin Flores Jr. |
| IMDb | 5.2/10 |
| Genres | Action/Adventure/Sci-Fi/Comedy |
Rim of the World is a 2019 American sci-fi adventure movie based on a screenplay by Zack Stentz. Alessio Scalzotto, Benjamin Flores Jr, Miya Cech, and Jack Gore Rim of the World is one of the best movies for teens on Netflix, and it was Stentz's contemporary interpretation of the action pictures starring children from the 1980s. The week after its release, it surpassed the TV shows Riverdale and Dead to Me as the best teen drama movies.
In the movie, Aliens suddenly overrun the planet, and the four outcast kids attending summer camp and discover they have more problems to deal with than learning how to paddle and climb ropes. The kids are unintentionally given a key that holds the power to stop the invasion while they are alone at a campground that was previously swarming with people. They must work together, face their worries, and save the world because they have no grownups or electronics to help them along the way.
5. Enola Holmes (2020)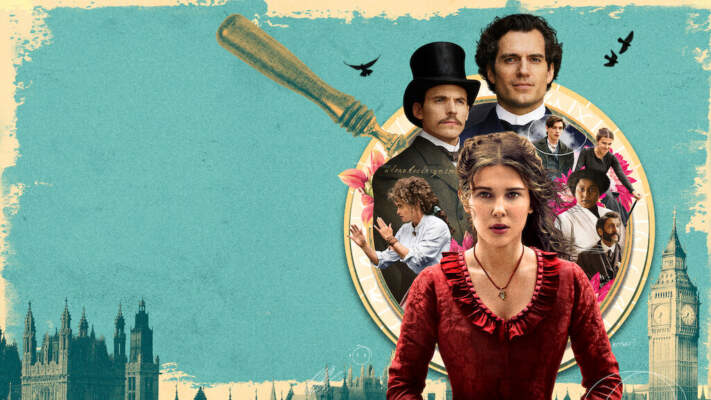 | | |
| --- | --- |
| Director | Harry Bradbeer |
| Cast | Millie Bobby Brown, Henry Cavill, Sam Claflin |
| IMDb | 6.6/10 |
| Genres | Action/Adventure/Crime/Drama/Mystery |
Enola's mother is missing so she decided to find her by herslef and try to solve the mystery but her brother refused to help her. This detective teen movie will give you the vibe of Sherlock Holmes and is loved by all especially mystery lover teens.
This adventure movie is based on the book series by Nancy Springer. Enola, who is the sister of the famous detective Sherlock Holmes, is portrayed by Millie Bobby Brown. The film combines elements of detective work, witty humor, and a touch of feminism. With its charming characters, clever storytelling, and strong performances from the cast, including Henry Cavill as Sherlock Holmes, "Enola Holmes" delivers an engaging and empowering tale that appeals to audiences of all ages.
6. The Half Of It (2020)
| | |
| --- | --- |
| Director | Alice Wu |
| Cast | Leah Lewis, Daniel Diemer, Alexxis Lemire |
| IMDb | 6.9/10 |
| Genres | Comedy/Drama |
Paul, a football player, develops feelings for Aster, a prominent college student. He asks his loner friend Ellie to give his crush the love letter, and Ellie is caught up in the love triangle as a result.
The plot centers on introverted and smart high school student Ellie Chu. The story examines issues of self-discovery, identity, and the difficulties of youthful romance as Ellie and Paul's odd friendship grows. The popular Netflix movie presents a sensitive and sincere depiction of teenage love and offers a novel perspective on the conventional romantic comedy subgenre. The film stands out as a top pick for audiences looking for a moving and poignant tale because of its well-rounded characters, stimulating conversation, and sophisticated study of friendship and emotional connection.
7. Home Team (2022)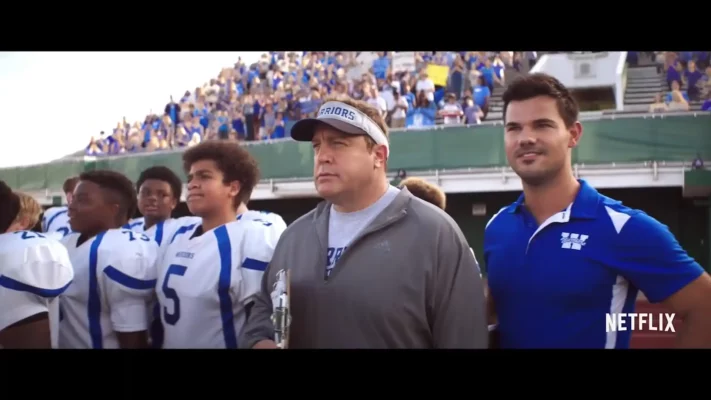 | | |
| --- | --- |
| Director | Charles Kinnane |
| Cast | Kevin James, Taylor Lautner, Rob Schneider |
| IMDb | 6.0/10 |
| Genres | Comedy/Sport |
Home Team is a Peter Segal-directed sports comedy film based on the true life of former NFL player and coach Sean Payton. The film follows Payton (Kevin James) as he serves his NFL ban and returns to his hometown to coach his son's youth football team. The sport movie examines themes of redemption, familial relationships, and personal growth while combining humour, heart, and underdog sports elements. The film provides a delightful and uplifting viewing experience for audiences of all ages, thanks to its lighter tone, likeable characters, and feel-good message.
8. Vampires vs The Bronx (2020)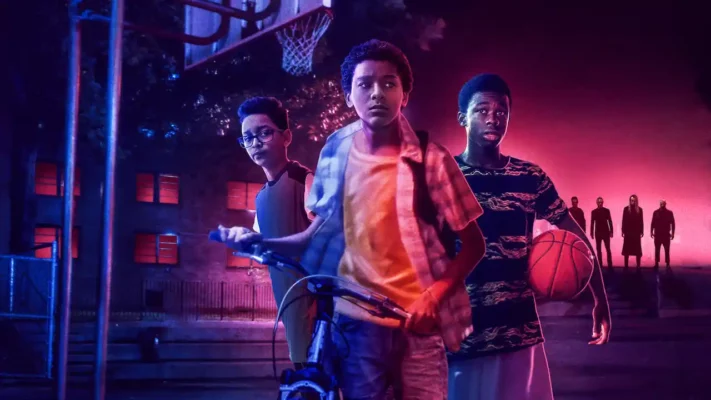 | | |
| --- | --- |
| Director | Oz Rodriguez |
| Cast | Jaden Michael, Gerald Jones, Gregory Diaz IV |
| IMDb | 5.7/10 |
| Genres | Comedy/Horror |
Netflix's Vampires vs. The Bronx is a horror-comedy film. The film is set in a Bronx neighborhood and follows a group of young friends as they learn that their community has been infiltrated by vampires. The video highlights themes of community, friendship, and perseverance as they band together to preserve their neighborhood from the savage animals. Vampires vs. The Bronx combines comedy, horror, and social commentary to provide an engaging and unique perspective on the vampire genre. The film provides a pleasant and exhilarating viewing experience for fans of supernatural comedy, thanks to its dynamic youthful cast, funny language, and fascinating storyline.
9. Confessions Of An Invisible Girl (2021)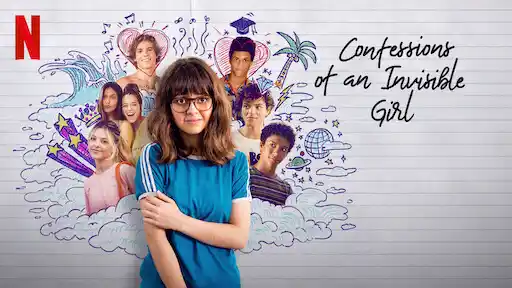 | | |
| --- | --- |
| Director | Bruno Garotti |
| Cast | Lucca Picon, Marcus Bessa, Caio Cabral |
| IMDb | 5.2/10 |
| Genres | Comedy/Drama |
Klara Castanho plays Tetê, a socially inept introvert who feels rejected at both home and school in this Brazilian teen film. She makes every effort to improve her life when she is forced to migrate to a new place and start over at a new high school. This hilarious comedy will appeal to everyone who has ever felt like they don't quite fit in.
Tete was suffering with uncertainties and the difficulty of fitting in at her new school. The film explores issues of self-acceptance, friendship, and the demands of social expectations as Tete navigates the ups and downs of adolescence. Confessions Of An Invisible Girl provides a realistic and empathic portrayal of adolescent issues thanks to its relatable protagonist and heartfelt storytelling. The film's candid depiction of the complexities of growing up resonates with audiences, making it an appealing pick for people looking for sympathetic and empowering stories.
Wrap Up!
All of these best movies for teens are available on Netflix. Every film contains romance, drama, comedy, and adventure, as well as its own unique flavor to the screen, whether it's the completely thrilling vampire story of "Vampires vs The Bronx," the smart analyst work of "Enola Holmes," the sweet and sour cuteness of Alicia in "Clueless," the middle class mid-90's romance in "Sense and Sensibility," or the "Home Team" for all the sport lover out there.
The wide range of spicy stories and genres depicted in these films demonstrates cinema's power to fascinate, enthrall, and delight teens. These Netflix's greatest teen movies have engaging plots and powerful performances that will leave an impression, whether you're searching for suspense, adventure, empowerment, or something else.