In the dynamic world of streaming platforms, 7Plus shines brightly as an icon of top-tier entertainment, boasting an extensive collection of films like John Wick and Killing Fields, designed to cater to diverse tastes and preferences. Whether you're a fan of heart-warming romances, thrill-seeker drawn to adrenaline-pumping action, or revel in thought-provoking dramas, 7Plus has you covered. Join us as we explore a carefully curated selection of 7 Plus best movies, each poised to transport you on a remarkable cinematic voyage.
Why have 7 Plus best movies earned immense appreciation?
7Plus has earned its reputation for offering the best movies not just by chance, but through a combination of factors that set it apart in the world of streaming platforms. Along with the audience, these films have also garnered enthusiastic feedback and support from a critics and various online platforms like justwatch.com, on the basis of popularity. It's the perfect blend of critical acclaim and audience appreciation that makes 7Plus the go-to destination for exceptional cinematic experiences. Watch 7Plus in UK today, and you'll understand why these best movies are celebrated for their outstanding entertainment.
1. John Wick Chapter 3 (2019)
| | |
| --- | --- |
| IMDB Rating | 7.4/10 |
| Genre | Action, Crime, Thriller |
| Stars | Keanu Reeves, Halle Berry, Ian McShane |
| Runtime | 131 minutes |
In this high-octane thriller, the twist centers around legendary assassin John Wick's relentless quest for freedom. After being declared "excommunicado" by the shadowy High Table, Wick faces a bounty on his head that draws every hired gun in the world to take him down. The film's pumping action sequences and unexpected alliances add layers of complexity to the narrative. The film masterfully balances heart-pounding action with moments of introspection, making it a standout in the action genre. Moreover, you can also access the movie action on other online streaming platforms like Amazon Prime Video. You will find some latest movies on Prime Video, if you subscribe to the platform.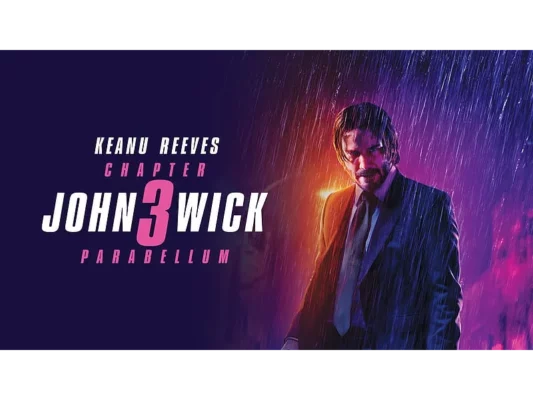 2. The Killing Fields (1984)
| | |
| --- | --- |
| IMDB Rating | 7.8/10 |
| Genre | Biography, Drama, History |
| Stars | Sam Waterston, Haing S. Ngor, John Malkovich |
| Runtime | 141 minutes |
The Killing Fields gives a portrayal of the devastating effects of the Khmer Rouge regime in Cambodia. Through the eyes of journalist Sydney Schanberg and his translator Dith Pran, viewers are transported to the midst of a brutal civil war. Director Roland Joffé skillfully captures the harrowing stories of survival amidst the chaos and inhumanity. The film's twist is the unflinching depiction of the horrors faced by both locals and foreign journalists as they navigate a war-torn landscape. It's a haunting exploration of humanity's capacity for cruelty and resilience, with a narrative that leaves a profound impact. If you watch Amazon Prime Video in UK, then you can easily access the show.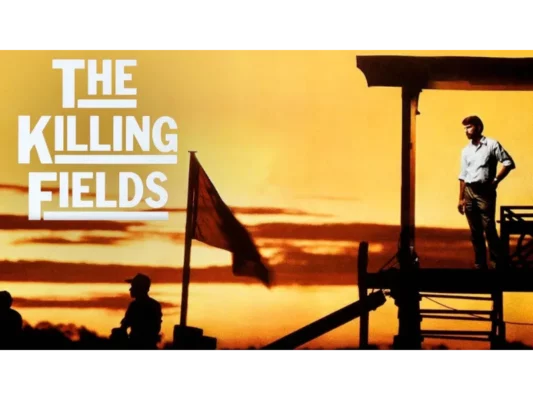 3. Long Shot (2019)
| | |
| --- | --- |
| IMDB Rating | 6.8/10 |
| Genre | Comedy, Romance |
| Stars | Charlize Theron, Seth Rogen, June Diane Raphael |
| Runtime | 125 minutes |
This romantic comedy explores the budding romance between a sharp-witted journalist and a charismatic politician. The film artfully balances humour and heart-warming moments, delivering witty dialogue and charming chemistry between its leads. The twist here is in the delightful blend of political satire and genuine connection, providing audiences with a refreshing take on love in the midst of career chaos. As the film unfolds, viewers are treated to a rollercoaster of emotions, from laugh-out-loud moments to touching revelations, ensuring a memorable cinematic experience. Long Shot can also be accessed on BBC iPlayer.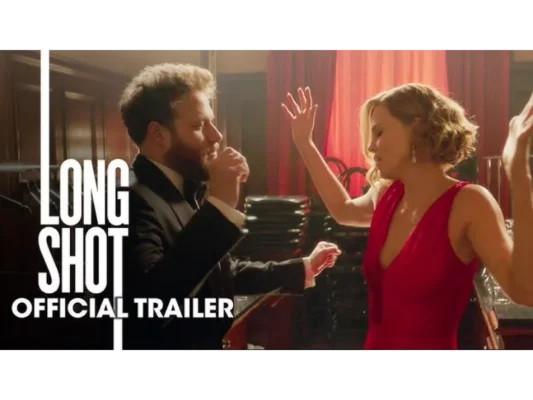 4. Once Upon a Time in Hollywood (2019)
| | |
| --- | --- |
| IMDB Rating | 7.6/10 |
| Genre | Comedy, Drama |
| Stars | Leonardo DiCaprio, Brad Pitt, Margot Robbie |
| Runtime | 161 minutes |
Once Upon a Time in Hollywood, is a mesmerizing trip back to the tumultuous year of 1969 in Hollywood. The film ingeniously blends fact and fiction, offering a twist on the tragic Manson Family murders that shocked the entertainment industry. This twist on history creates a captivating narrative, weaving multiple storylines. Moreover, it introduces us to the larger-than-life characters of Rick Dalton, a fading actor played by Leonardo DiCaprio, and his enigmatic stunt double Cliff Booth, portrayed by Brad Pitt. As the film navigates the golden era of Hollywood, it pays homage to the industry's glamour while also delving into the darker corners of fame and ambition. The movie is also available to rent on Apple TV and Sky Store.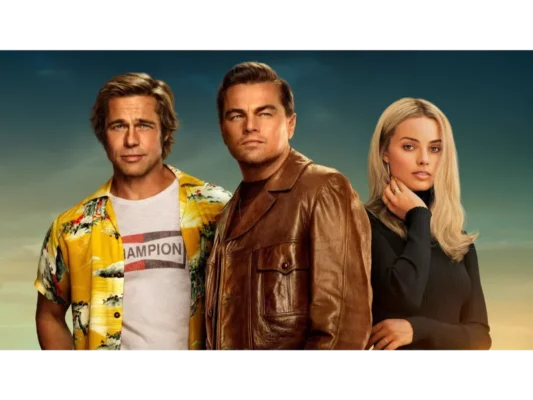 5. Daffodils (2019)
| | |
| --- | --- |
| IMDB Rating | 5.8/10 |
| Genre | Drama, Musical, Romance |
| Stars | Rose McIver, George Mason, Kimbra |
| Runtime | 93 minutes |
Daffodils brings an enchanting twist to the musical biography genre as it narrates a touching love story through the lens of music. Maisie embarks on a journey through her parents' romantic history by revisiting their experiences through heartfelt songs. This twist adds a unique and emotionally resonant layer to the film, allowing music to become an integral part of the storytelling. As viewers immerse themselves in the melodies and lyrics, they connect with the characters on a profound level, making Daffodils a musical experience that transcends the screen. Moreover, the movie is available to stream on BFI Player, Freevee and Rakuten TV.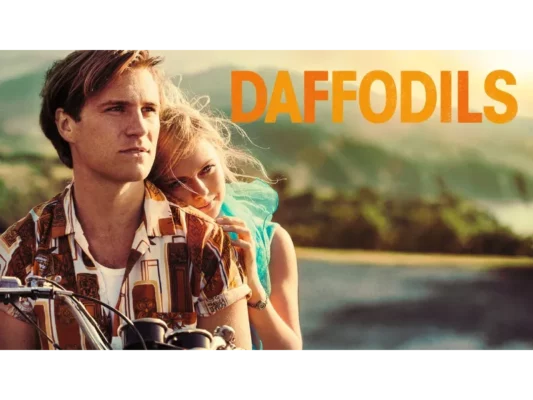 6. Pimped (2018)
| | |
| --- | --- |
| IMDB Rating | 4.6/10 |
| Genre | Mystery, Thriller |
| Stars | Ella Scott Lynch, Benedict Samuel, Heather Mitchell |
| Runtime | 90 minutes |
In the transgressive thriller Pimped, the twist is a journey into the murky depths of manipulation and power play. Sarah, the film's enigmatic protagonist, finds herself entangled not only with a psychopath but also with her own inner demons. Director David Barker skillfully keeps viewers on the edge of their seats through a web of psychological twists. As Sarah navigates this treacherous world of deceit and desire, the film peels back layers of intrigue. It invites audiences to question their perceptions of morality and control. It's a cinematic rollercoaster that delves deep into the darkest corners of the human psyche. The movie is also available to watch on Freevee.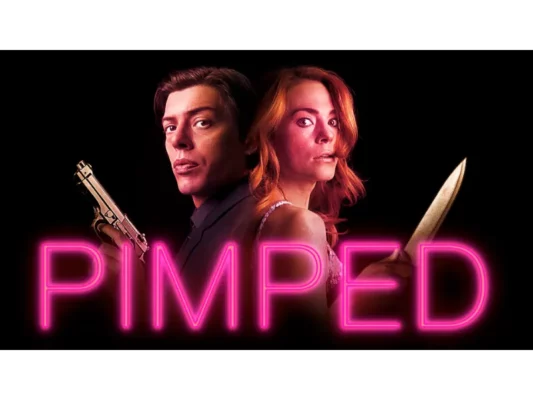 7. Goosebumps 2 (2018)
| | |
| --- | --- |
| IMDB Rating | 5.6/10 |
| Genre | Adventure, Comedy, Family |
| Stars | Wendi McLendon-Covey, Madison Iseman, Jeremy Ray Taylor |
| Runtime | 90 minutes |
In this family-friendly adventure, the twist unfolds when two teenage friends, Sonny and Sam, stumble upon a mysterious book. This book has the power to bring to life a world of magic and monsters. The film's unexpected turn comes as they unwittingly unleash a Halloween-themed apocalypse on their town. As they navigate this fantastical realm, viewers are treated to a delightful blend of spooky humour and supernatural encounters. Director Ari Sandel brings the Goosebumps universe to life with a playful twist, keeping audiences entertained. Hence, you can expect to embark on an exciting and perilous adventure filled with ghouls, goblins, and unexpected challenges. You can also watch the movie on Netflix platform in UK.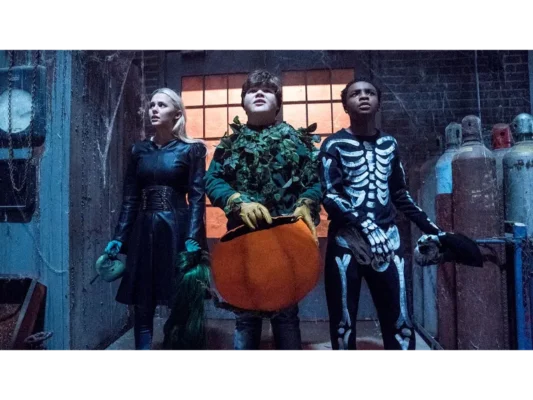 8. William Kelly's War (2014)
| | |
| --- | --- |
| IMDB Rating | 6.3/10 |
| Genre | Drama, History, War |
| Stars | Maegan Luxa, Peter Flaherty, Tony Bonner |
| Runtime | 94 minutes |
William Kelly's War offers a unique twist on the World War I narrative by focusing on the lesser-known story of a young Australian soldier, William Kelly. The film portrays Kelly's journey with a poignant twist. It emphasizes his courage, resilience, and unwavering determination in the face of the horrors of war. As audiences follow Kelly through the battlefield, they witness not only the physical trials of combat but also the profound emotional and psychological challenges. These challenges are faced by soldiers during this tumultuous period in history. The movie is also available to watch on Freevee in UK.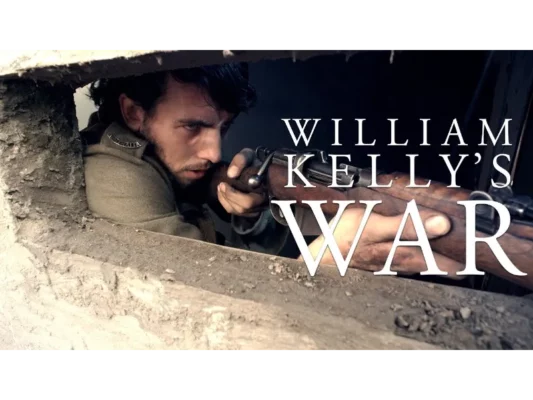 What's the wrap?
7Plus presents a dazzling array of cinematic treasures, ready to transport you on an enchanting journey. Hence, you can expect a rollercoaster of laughter, emotion, and excitement. Whether you're in the mood for heart-warming stories or pulse-pounding action, this platform offers a rich tapestry of narratives to suit your tastes. So, gather your favourite snacks, get comfortable on your couch, and embark on a cinematic pleasure with the very best that 7Plus has to offer. It's time to rediscover the pure joy of 7 Plus best movies, your ultimate destination for exceptional entertainment.