The time when the movie Barbie was the most popular at the box office has come to an end.
After being the top movie since it came out on July 21, the film directed by Greta Gerwig is no longer the highest-earning movie of the weekend.
Instead, the superhero movie Blue Beetle from DC took its spot, making around $25.4 million. Barbie slipped to second place, earning $21.5 million, as reported by BoxOfficeMojo.
Oppenheimer, which also came out on the same weekend as Barbie, dropped to the third position, earning $10.6 million. This brought its total earnings in the US to $285 million.
So far, Barbie has made $567 million at the US box office. The film ends its place on top beating several records.
Last week, it became Warner Bros.' highest-grossing domestic release, beating the former title holder, the 2008 film The Dark Knight. It's also still on track to surpass Universal Picture's "The Super Mario Bros. Movie," as the biggest domestic release of the year. That movie has made $574.2 million at the US box office since its April 5 release, according to New York CNN,
CNN's parent company, Warner Bros. Discovery, is responsible for distributing both Blue Beetle and Barbie.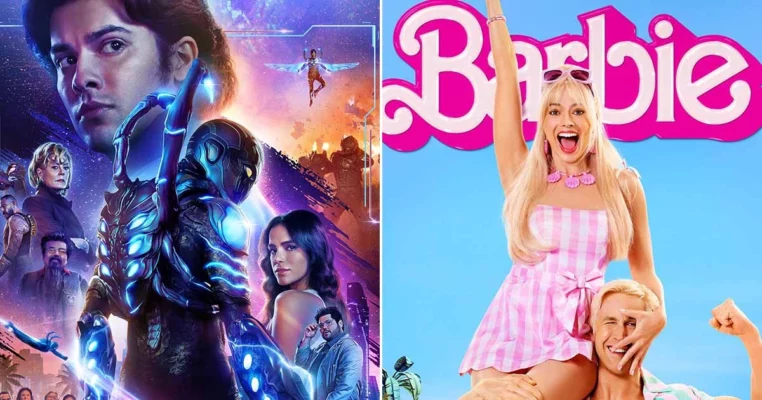 The superhero movie Blue Beetle might be feeling a bit disappointed. It not only fell short of expectations, with pre-weekend projections indicating earnings of $28 million to $32 million, but it also recorded one of the lowest opening weekends in the DC Extended Universe, without accounting for inflation.
Ángel Manuel Soto's film Blue Beetle is a significant milestone in Hollywood. It's the first live-action superhero movie centered on a Latino main character, aiming to make a positive impact on Latino audiences and representation in the film industry.
Xolo Maridueña takes on the lead role, joined by a cast including Adriana Barraza, Damían Alcázar, Raoul Max Trujillo, Susan Sarandon, George Lopez, Elpidia Carrillo, Bruna Marquezine, Belissa Escobedo, Harvey Guillén, and Becky G.