The Saudi Arabian Grand Prix promises to be more thrilling and secure for drivers at the Jeddah Corniche Circuit (JCC). After consulting with the FIA, F1, and drivers, the organizers have announced a number of alterations to the track's design.
The first Saudi Arabian Grand Prix in 2021 was exhilarating as drivers maneuvered the fastest street track in the world, which has blind turns and poor sight. However, after hearing from the drivers, the track was widened and made safer in preparation for the 2022 competition.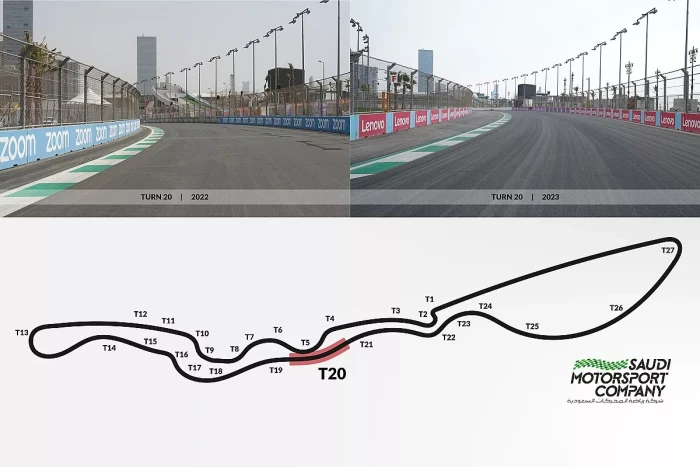 The organizers have now taken things a step further and made significant adjustments to blind curves and high-speed turns. By moving the barrier and installing a beveled curb, speeds at bends 22 and 23 have been lowered by about 50 km/h. Similar curbs have been inserted in corners 4, 8, 10, 11, and 23, and additional rumble lines will slow and discourage drivers from running wide.
Suggested reads: Max Verstappen Anticipates Ferrari Challenge at Saudi Arabian GP
The difficult corners 14 and 20 have been made more accessible by pulling back the fences, enhancing driver visibility. In turns 14 and 20, the right wall has been pushed back 7.5 meters, and the left wall has been pushed back 5 meters. Also, the walls at turns 8 and 10 have been moved back for improved viewing.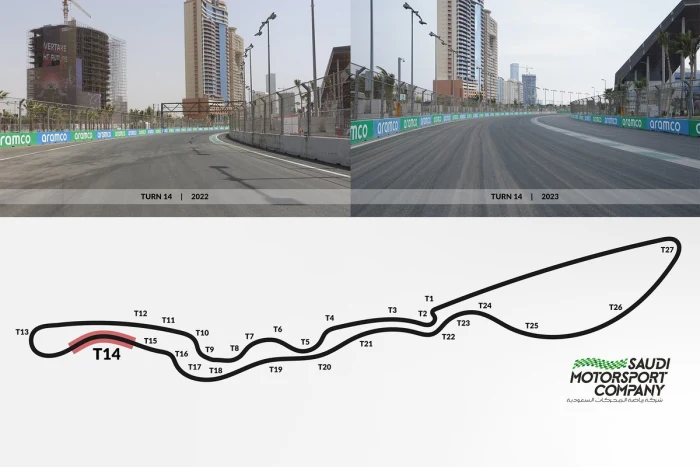 The Saudi Motorsport Company's chief executive, Martin Whitaker, said:
"The evolution of the Jeddah Corniche Circuit continues apace, and we are excited to add these further tweaks to our magnificent track. It is vital for any circuit to listen and learn from those racing on it and use their feedback to grow and improve at all times."
The JCC will now be an even more thrilling and exciting location for F1 racing thanks to the improvements. With improved sightlines and, most crucially, safety precautions in place, the 2023 Grand Prix promises to be a spectacle unlike any other. F1 fans can't wait to watch who will triumph as the best drivers in the world compete once more under the lights.