Whether you are a seasoned dancer or love to groove to the beat, there's nothing quite like a good dance movie to get your heart pumping and your feet moving. And with Netflix's extensive movie collection, you don't even have to leave your couch to experience the magic of dance on the big screen.
So grab your popcorn and get ready to be swept away by the best dance movies on Netflix! From classic musicals to contemporary hits, the streaming service has something for every dance lover. Whether you are a fan of ballet, hip-hop, or contemporary dance, there's a movie on Netflix that will keep you entertained and inspired.
In this article, we will be exploring some of the best dance movies on Netflix that you won't want to miss. So get ready to be swept away by the rhythm and energy of these captivating films!
Why Do We Think These Are The Best Dance Movies On Netflix?
Here is the possible enumeration of some Best Dance Movies On Netflix from Highest to lowest IMDb ratings:
1. Girl
---
| | |
| --- | --- |
| Cast: | Victor Polster, Arieh Worthalter, Katelijne Damen, Valentijn Dhaenens |
| Release date: | November 1, 2018 |
| IMDb rating: | 7.1/10 |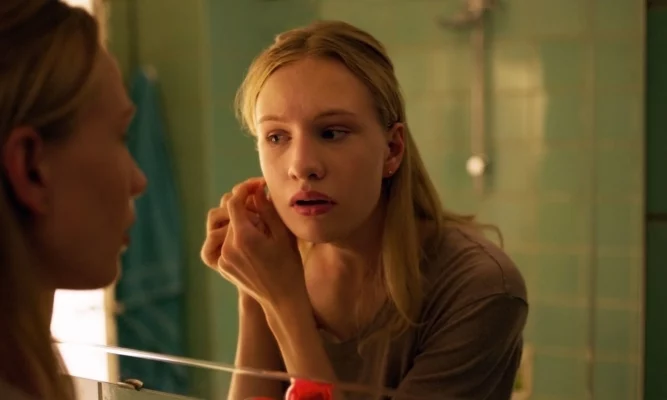 This Dutch and Belgian drama Girl is about the tenacious 15-year-old Lara, whose greatest desire is to become a professional ballerina. As she is fortunate to have her father's unwavering support, she wants to show everyone that she is the greatest. Her life will become unnecessarily tricky due to a problem, though. When Lara enrolls at the elite dance school, she discovers that because she was born a boy, her body doesn't respond to the rigorous ballet training as it should.
2. Rize
---
| | |
| --- | --- |
| Cast: | Lil' C, Tommy the Clown, Miss Prissy |
| Release date: | June 24, 2005 |
| IMDb rating: | 7.1/10 |
David LaChapelle, a fashion photographer, created the aesthetically striking documentary Rize about the origins and development of the krumping dance form.The film follows Tommy "The Clown" Johnson as he tells tales of how the 1992 riots following the Rodney King verdict wrecked parts of his childhood neighborhood and how he invented a new athletic form of hip-hop dancing he named clowning and later changed to krumping.
3. Dance Academy: The Movie
---
| | |
| --- | --- |
| Cast: | Xenia Goodwin, Alicia Banit, Dena Kaplan, Tom Green, Jordan Rodrigues, Tim Pocock, Isabel Durant,Thomas Lacey, Keiynan Lonsdale, Tara Morice |
| Release date: | April 6, 2017 |
| IMDb rating: | 6.8/10 |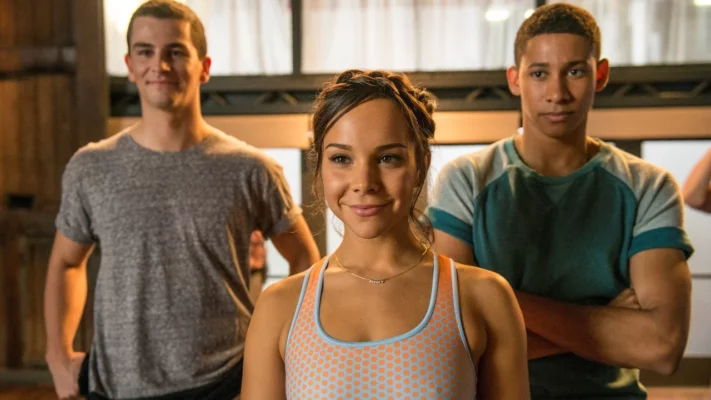 The movie is a continuation of the famous Dancing Academy series from Australia, which chronicled the lives of a group of kids as they trained to be ballet dancers. The movie's storyline is about Tara, the lead character, who must learn what she wants from life, accept her circumstances, and let go of the things holding her back.
Dancing Academy depicts a situation that is quite realistic, where rejection is prevalent, and accidents may wipe out years of dedication. As all her friends are achieving their goals, Tara must reevaluate her life and make crucial choices that may alter the course she had initially intended.
4. High Strung Free Dance
---
| | |
| --- | --- |
| Cast: | Keenan Kampa, Nicholas Galitzine, Jane Seymour, Sonoya Mizuno, Richard Southgate, Paul Freeman, Maia Morgenstern |
| Release date: | April 8, 2016 |
| IMDb rating: | 6.8/10 |
A young choreographer is followed in High Strung Free Dance as he puts together a much-anticipated Broadway production. To help him flourish and star in his performance, he takes a gamble by hiring a modern dancer and a distinctive pianist.
The film's focus shifts from dance and Broadway performances to romance and drama as the pianist develops a love for the choreographer.
5. Leap
---
| | |
| --- | --- |
| Cast: | Elle Fanning, Dane DeHaan, Maddie Ziegler, Carly Rae Jepsen |
| Release date: | August 25, 2017 |
| IMDb rating: | 6.7/10 |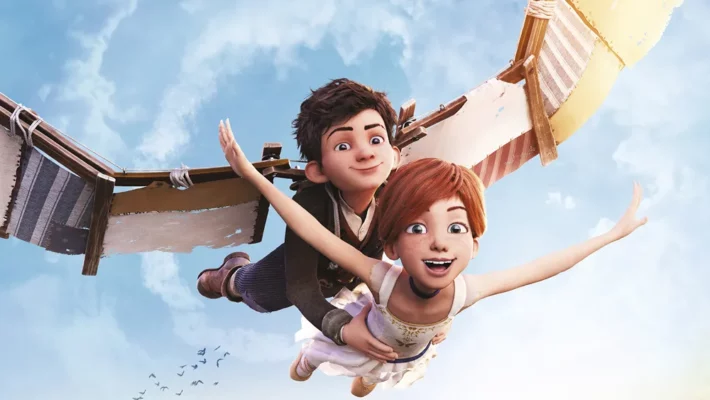 A French computer-animated movie called Ballerina or Leap! Features the Paris Opera Ballet School as its focal point. The animated children's film is ideal for both children who adore ballet and parents who share their children's appreciation of quality animated movies.
The story's protagonist is Félicie, an orphaned young woman who aspires to be a talented dancer. Victor, a little child with great imagination and aspirations to be an inventor, is with her. Félicie must find a teacher to assist her in achieving her goals since she understands that in addition to having the skill and drive, she also requires extensive instruction.
6. Feel the Beat
---
| | |
| --- | --- |
| Cast: | Sofia Carson, Enrico Colantoni, Donna Lynne Champlin, Wolfgang Novogratz |
| Release date: | June 19, 2020 |
| IMDb rating: | 6.3/10 |
In this family comedy-drama, we meet April Dibrina, a dancer who dreams of making it big on Broadway. However, following a string of bad luck in New York, she decides to return to Wisconsin and join a dancing class.
To teach a bunch of gifted misfits and get them ready for a huge competition, she is unwillingly hired. After a somewhat rocky beginning, April will discover happiness with something entirely different than she had anticipated after getting to know her dancers and developing a close relationship with them.
7. Full Out
---
Cast:
Jennifer Beals, Ana Golja, Art Hindle, Jake Epstein, Ramona Milano, Trevor Tordjman,
Lamar Johnson
Release date:
September 11, 2015
IMDb rating:
6.3/10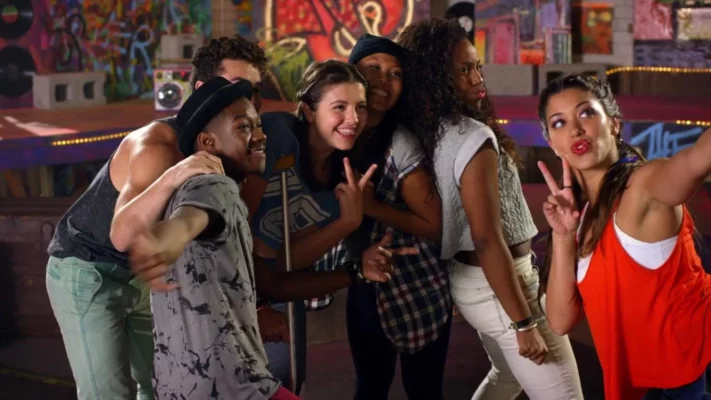 An adolescent gymnast training to participate in the Olympics is the subject of the Netflix film Full Out, which is based on a true story. Her aspirations of competing in the Olympics are put on hold due to a car accident.
She engages in dance as part of her rehabilitation after the injury to help her regain confidence and whole-body movement. After recuperating and pursuing dancing, she discovers that she could have a second shot at fulfilling her gymnastics goals.
8. Work It
---
| | |
| --- | --- |
| Cast: | Sabrina Carpenter, Koshy, Keiynan Lonsdale, Michelle Buteau, Jordan Fisher |
| Release date: | August 7, 2020 |
| IMDb rating: | 6.1/10 |
Quinn Ackerman, who wants to be a professional dancer, is the subject of this comedy-drama name 'Work It'. One dancing competition performance is all that stands between her and admission to the institution of her dreams.
There is just one, but it's a big one. Quinn could be a better dancer. She forms a dance squad with a bunch of outcasts to compete against the top dance team in their school since she is motivated to achieve her goals. With some assistance, she will learn to dance and show that some people can succeed despite all odds.
9. Let's Dance
---
| | |
| --- | --- |
| Cast: | Rayane Bensetti, Alexia Giordano, Guillaume de Tonquédec, Mehdi Kerkouche, Brahim Zaibat |
| Release date: | March 12, 2019 |
| IMDb rating: | 5.9/10 |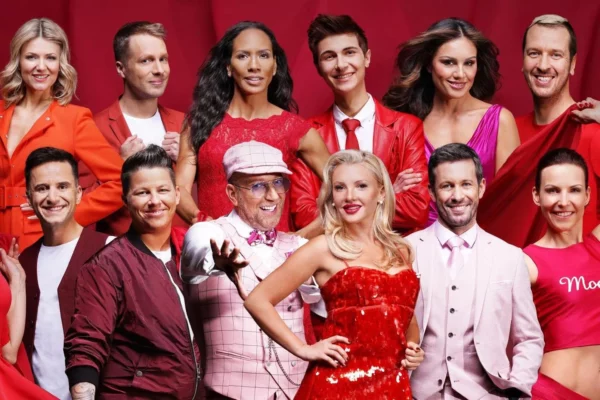 This French comedy-drama, a remake of the 2010 British dance film Street Dancing, tells the tale of Joseph, a dedicated hip-hop dancer who rejects the opportunity to join his father's business and decides to try his luck in Paris instead.
Joseph joins the Paris group of Yuri, a well-known break dancer desperate to win an international hip-hop competition, together with his fiancée Emma and best buddy Karim.
10. Battle
---
| | |
| --- | --- |
| Cast: | Lisa Teige, Fabian Svegaard Tapia, Vebjørn Enger, Charlott Utzig |
| Release date: | September 28, 2018 |
| IMDb rating: | 5.9/10 |
The movie Battle is about a girl named Amalie who aspires to live in a society where physical attractiveness, wealth, and dance prowess are the only criteria, but when her father declares bankruptcy, her life falls apart totally. She is attempting to keep everything from her schoolmates, but she will soon have to face their resentment and misinterpretation.
She will be caught between his new life with him and these old friends when she meets Michael, a street dancer, and she will become embroiled in her never-ending web of lies. Yet, it is unclear how long she will be able to maintain secrecy and whether she will remain loyal to herself.
Wrap up!
In conclusion, Netflix offers a variety of dance movies that cater to different preferences and moods. These movies not only showcase impressive dance performances but also explore themes such as passion, friendship, and self-discovery.
From the intense drama of High Strung Free Dance to the uplifting and heartwarming story of Feel the Beat, there is something for everyone to enjoy. Whether you are a dance enthusiast or just looking for a good movie to watch, the best dance movies on Netflix are worth checking out.