S.W.A.T Season 5 is streaming on Paramount+
S.W.A.T.,the 1975 television series of the same name, created by Robert Hamner and produced by Rick Husky, served as the inspiration for the American crime thriller. Shawn Ryan and Aaron Rahsaan Thomas created the new show, which had its C.B.S. debut on November 2nd, 2017, produced by Original Film, C.B.S. Studios, and Sony Pictures Television.
The iconic thing which makes CBS' S.W.A.T show stand out against others is that it powerfully touches upon important societal and related issues in every episode which actually highlights one of the purposes of this series.
Promising Cases of S.W.A.T
It's pretty hard, to sum up, the 5 best cases of the S.W.A.T series because every case has been flawless and outstanding in its own way. Here are some of the best cases we have highlighted:
1. Human Trafficking Case – Shaky Town (Season 2, Episode 1)
The entire squad has difficulties as they try to apprehend a notorious human trafficking ring leader, Mack Drummond, who kidnaps children and gets ready to sell them. When it seems Hondo might be able to convince the man as the squad closes in, an earthquake rocks Los Angeles. Meanwhile, Street strives to heal his differences with the team.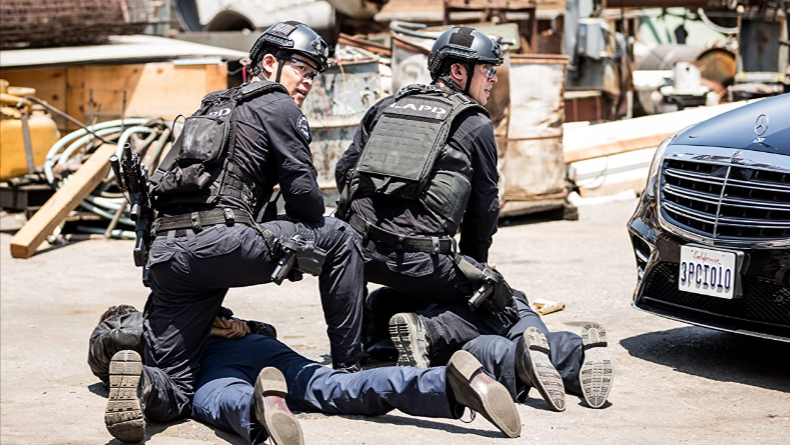 2. Cruise Ship Hijacking Case – S.O.S (Season 2, Episode 5)
While the rest of the crew works from outside to identify the intruders, Hondo and Chris get onto a cruise ship that has been hijacked to thwart the hijackers' plot to depart to Mexico with narcotics. The ship's chief of security and a passenger with a satellite phone assist them in finding the ringleader and eliminating the danger.
While everything is going on, Street experiences a challenging first day at the S.W.A.T. school, where one of the supervisors, Luca, who still harbors resentment, is putting him to the test. Nevertheless, they end up making up in an effort to support him in winning a wager against Mumford. He also gets along with Devlin, a fellow student.
3. Prison Break Case – Cash Flow (Season 2 Episode 18)
Hondo and Ruiz, a fellow Marine with whom he served in Somalia 20 years prior, are reunited in the case of an escaped convict who breaks out of the jail by thieves using a stolen military weapon. They are forced to put aside their disagreements to reclaim the weapons and stop the crooks when it becomes clear that the guns were taken from Ruiz's base.
When Deacon falls short of his debt quota, Mickey switches to a different favor request. After nearly snatching stolen money out of desperation, he ultimately tells Hondo the truth. He settles the bill with Luca and cautions Micky about Deacon.
4. LGBTQ Case – Pride (Season 2, Episode 16)
The crew gets busy securing the LGBTQ Pride celebration in Los Angeles when a hate crime threatens to spark additional violence. Chris is personally affected by the case, and JP Hicks, who was once a heroin addict and later became an advocate for LGBT rights, gets reunited with his father.
Street becomes concerned that his mother may be sent to prison after missing the past two parole meetings. Deacon learns unexpectedly that Victoria, his infant daughter, needs surgery. Deacon turns to Mickey, a loan shark he once caught, after being unable to obtain a loan from a bank.
5. Sex Trafficking Case – Whistleblower (Season 4, Episode 17)
The team reacts to rescue the victims trapped in a sex trafficking network that targets oppressed women. In addition, Chris is confronted by Street about visiting his mother in the hospital, while Hondo finds himself at war with Leroy and Darryl on the future of their company. Meanwhile, Chris was shocked when she found out that Street was giving part of his liver to his mother.